My work lives at the crux of optimal performance and wellbeing.
The pressures of modern work and life have never been greater
It seems we all struggle with these intensifying challenges and the hefty price we pay.
Untapped performance potential creates an annual productivity shortfall of $305 Billion in Australia alone.
Avoidable job stress and poor mental health contribute $10's of Billions more in lost productivity.
Not only does our economy suffer, high job stress takes 3 years off our own lifespan!
These clear, present, and ubiquitous challenges threaten our ability to drive meaningful and sustainable progress into an uncertain future.
I believe a fresh approach is required to address these challenges. One that honours and leverages our mind, body and relationships to produce optimal performance, sustainable wellbeing, and meaningful progress.
Walking the edge of modern Western sciences and traditional Eastern practices, I design contemporary strategies and programs that deliver insight and impact.
Adrian is a psychologist, speaker, author and thought leader on a mission to optimise performance and wellbeing for people and organisations. He specialises in performance psychology, wellbeing science, mindfulness, innovation and emerging tech.
"Live and work at the intersection of your optimal level of performance and wellbeing. We need both in sync if we are to be at our best - no exceptions. This is the path to discovering new peaks of your potential."
- Dr Adrian Medhurst
Adrian has authored the book "Meditate on This: The Science of Mindfulness" and is the CEO of - Benny Button, a wellbeing and performance business. Adrian is dedicated to improving the lives of as many people as possible through wellbeing and performance initiatives. Benny Button is pioneering a personalised approach to employee wellbeing and performance improvement through science-based mind-body-performance assessments and digital platform solutions.
Adrian's expertise has grown from a doctorate in organisational psychology, 15 years spanning corporate consulting and university lecturing, and dedicated ongoing scientific study and practise in performance psychology, wellbeing science, organisational innovation, mindfulness meditation and yoga. He's based in the coffee capital city of Melbourne, but his work has seen him deliver training programs, facilitated workshops, and keynote presentations right across Australia, Asia, Central and South America, the UK and our New Zealand neighbours.
Working with a diverse range of organisations and industry sectors, as well as government departments, not-for-profits, and SME's. Clients including the BlueScope Steele, CBA, KimberlyClark, Swisse, Australia Post, NAB, AMP, Red Cross, Fairfax, Coles, Medibank, SBS, Qantas, Novartis, BP, Sugar Australia, Heinz, and Fosters, to name a few.
watch adrian in action
THE REAL COSTS OF STRESS IN OUR WORKPLACES
In this short video, Dr Adrian Medhurst breaks down the statistics of how much stress is costing our workplaces and why it is so important to draw our attention to it.
This keynote was filmed at the 2018 ThinkTank Corporate PA Summit. If you would like to see where Dr Adrian Medhurst is speaking next, head over to our Events page here.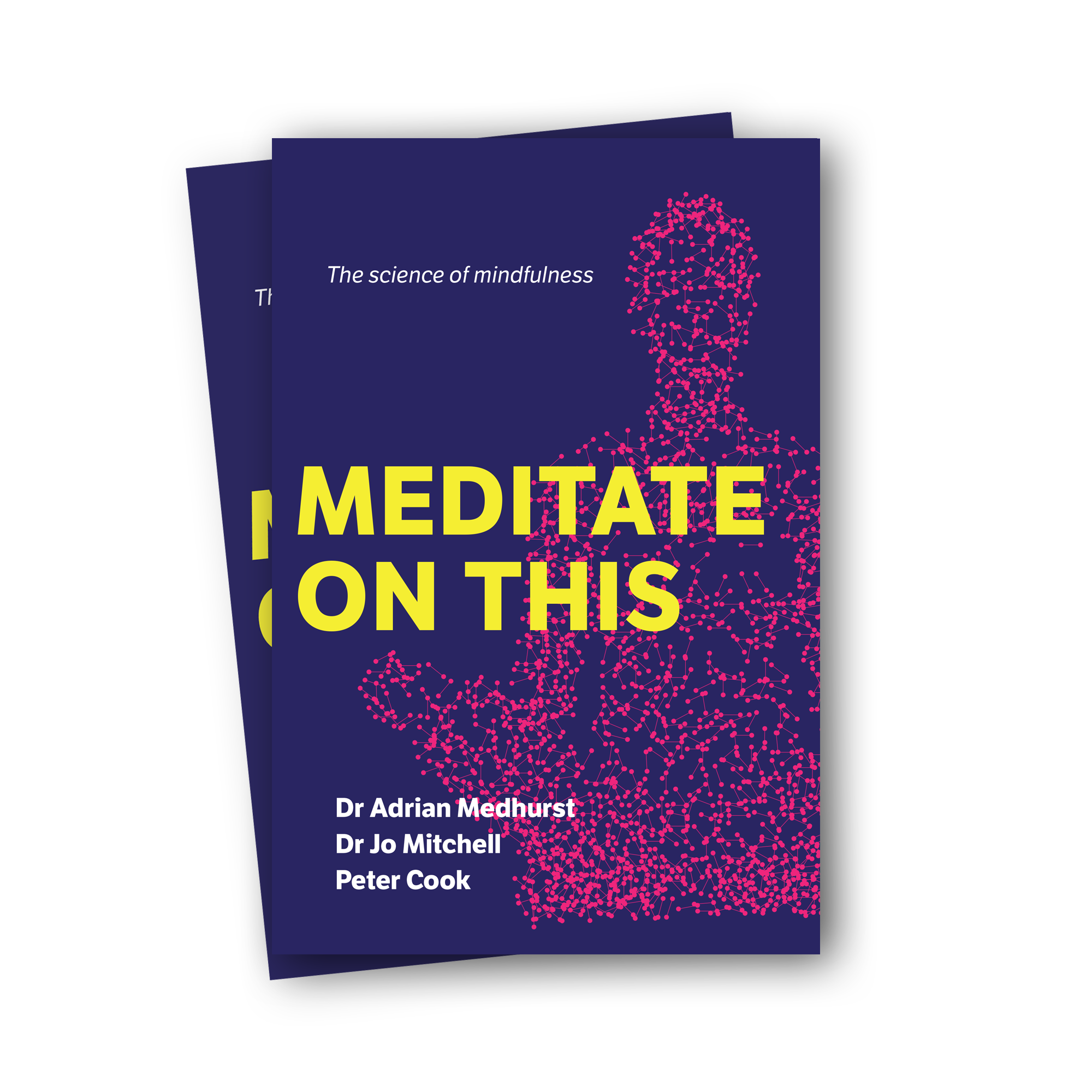 What do artists Hugh Jackman, Emma Watson, and Russell Brand have in common with business gurus Bill Gates, Arianna Huffington and Oprah Winfrey. What do they all share with sportspeople Novak Djokovic, Kobe Bryant, and the whole AC Milan soccer team?
The title of this book is a bit of a clue if you're struggling.
There is lots of anecdotal evidence of the benefits of meditation. But what does it really do? This book aims to answer this question by looking at the science.
We've reviewed over a thousand different studies, and trawled through hundreds of journals to find the answers. The science is unequivocal.
An effective meditation practice has a significant effect on happiness, health, performance and relationships. The range of benefits extends from the level of our very own genes, right through to the relationships we have with others and our environment. Plus, the benefits of meditation begin to take root in the brain and body after just a few minutes of practice, and build with consistent practice over time.
The rate at which modern research is revealing scientific evidence on the benefits of meditation benefits is increasing rapidly. Around 40 scientific papers are published each month with include meditation and the sidekick mindfulness as key variables under investigation. This book lays out the proven impact of an effective meditation practice, in terms everyone can understand and appreciate.
For all keynote enquiries please leave your details below and we will be in touch shortly. Alternatively you can email Adrian at adrian@dradrianmedhurst.com.